Trending Designs: Top 7 Designer Indian Sarees of The Year
No matter how much fashion comes and goes but saree is one such garment that tends to remain a timeless symbol of grace and beauty. Owning designer Indian sarees is like a dream come true for every Indian woman.
The designer sarees for wedding are not only embellished, elegant, and ultra-modern but also help you to stand apart from the crowd. With a varied range of sarees online, there is a fancy saree for nearly everyone irrespective of your style.
Witnessing plenty of designers and Indian saree for wedding, it is obvious to get confused and unable to decide which one to buy. Consequently, Ekana Label has come up with its trending designer Indian sarees especially curated and handpicked for you.
Let us take note of the designer sarees for weddings by Ekana Label in the blog below.
Why Do Designer Sarees Stand Out?
Designer sarees are quite different from regular or traditional sarees and stand out among the crowd.
The exclusive design of the designer sarees is what makes these sarees stand out from others. Moreover, high-quality fabric is used in the making of fancy sarees and these are customized to suit the preferences of the wearer.
The intricate embellishments of the designer sarees such as beads, stones, and others transform the ordinary saree into something extravagant.
Designer Indian Sarees for Wedding
Designer Indian Sarees are not meant to be worn on casual occasions and events but mostly at weddings and other such functions. The exquisite designs of the designer Indian sarees play a crucial role in the bridal trousseau and contribute to the essence of the grand celebration.
Top 7 Designer Indian Sarees of Ekana Label
No more wondering which one to shop and which one to leave as we have handpicked the best and top designer Indian sarees from Ekana Label's collection.
Pink Kasturi Kalamkari Saree
One of the best Indian saree for a wedding is the pink kasturi Kalamkari saree. The saree is a blend of ethnicity and modernity and features a beautiful peacock design on its pallu. Moreover, the super soft handloom cotton silk fabric used in the making of the saree in turn ensures a good fall. Shop this beautiful saree before it gets out of stock by visiting our website now.
Thaanvi double Ikkat Saree
Thaanvi double Ikkat saree is also regarded as one of the best sarees of Ekana Label's collection. The saree features a beautiful print and has an amazing Mughal painting done on its pallu. This Chanderi cotton saree comes along with an unstitched blouse and is super lightweight making it easy for you to carry. Shop this beauty now at just Rs. 1450.
Eva Kalamkari Saree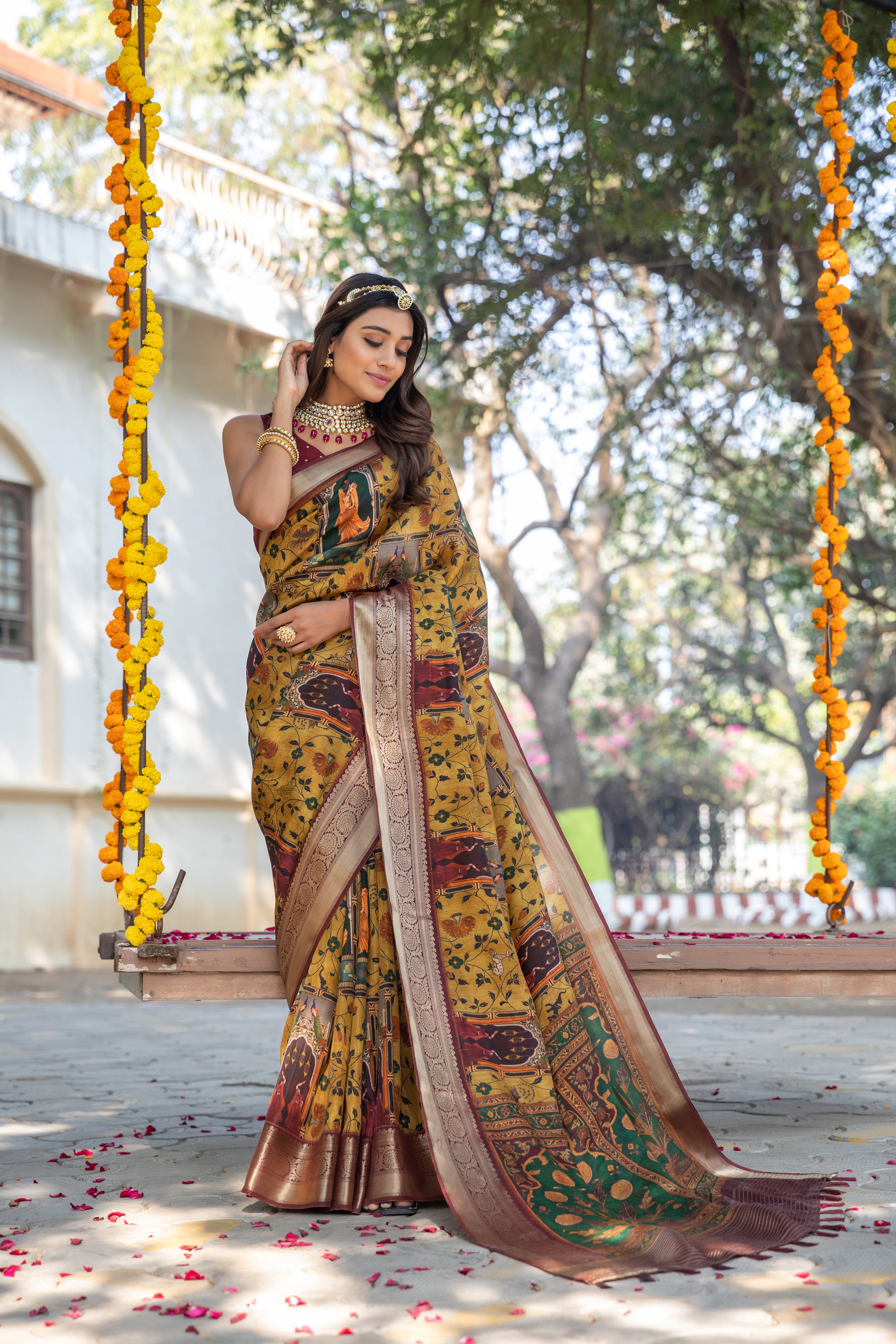 The next best fancy saree to shop for is the Eva Kalamkari saree. Whether you are looking for something ethnic or modern, this saree has got you covered as it is a blend of traditional and modern. The pure viscose dola silk used in the making of this saree makes you feel soft upon wearing. The set includes a saree along with a soft cotton jacquard butti blouse and weaving pallu.
Kadambari Madhubani Kalamkari Block Saree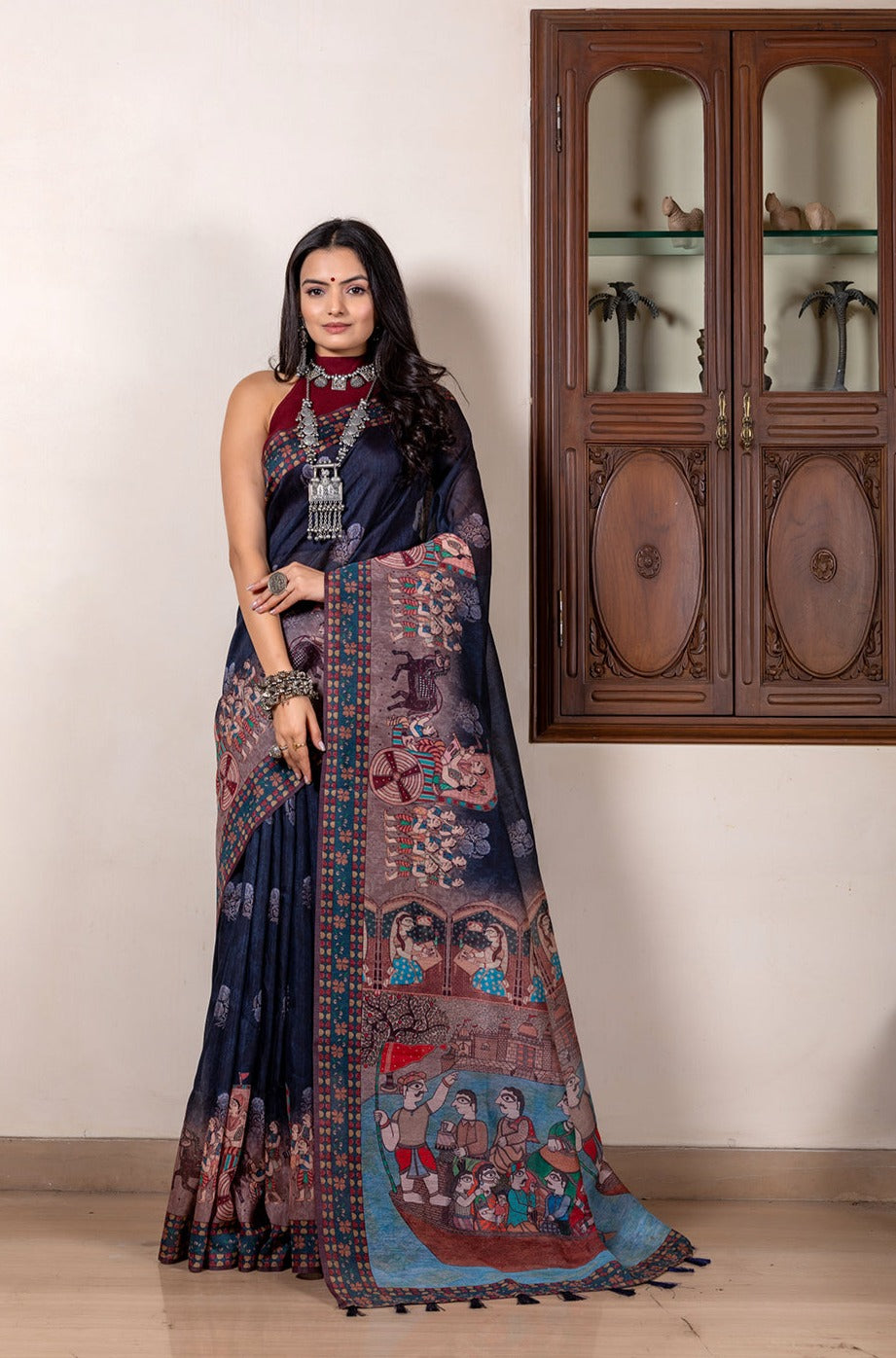 Are you looking for a designer saree to make you look traditional? If this is on your checklist, then Ekana Label's Kadambari Madhubani Kalamkari Block Saree is the perfect choice for you. The pallu of the saree features a Madhubani painting which in turn adds to the beauty of the saree further. Get this saree only for Rs. 1895 and rock the wedding look.
Amaira Kalamkari Saree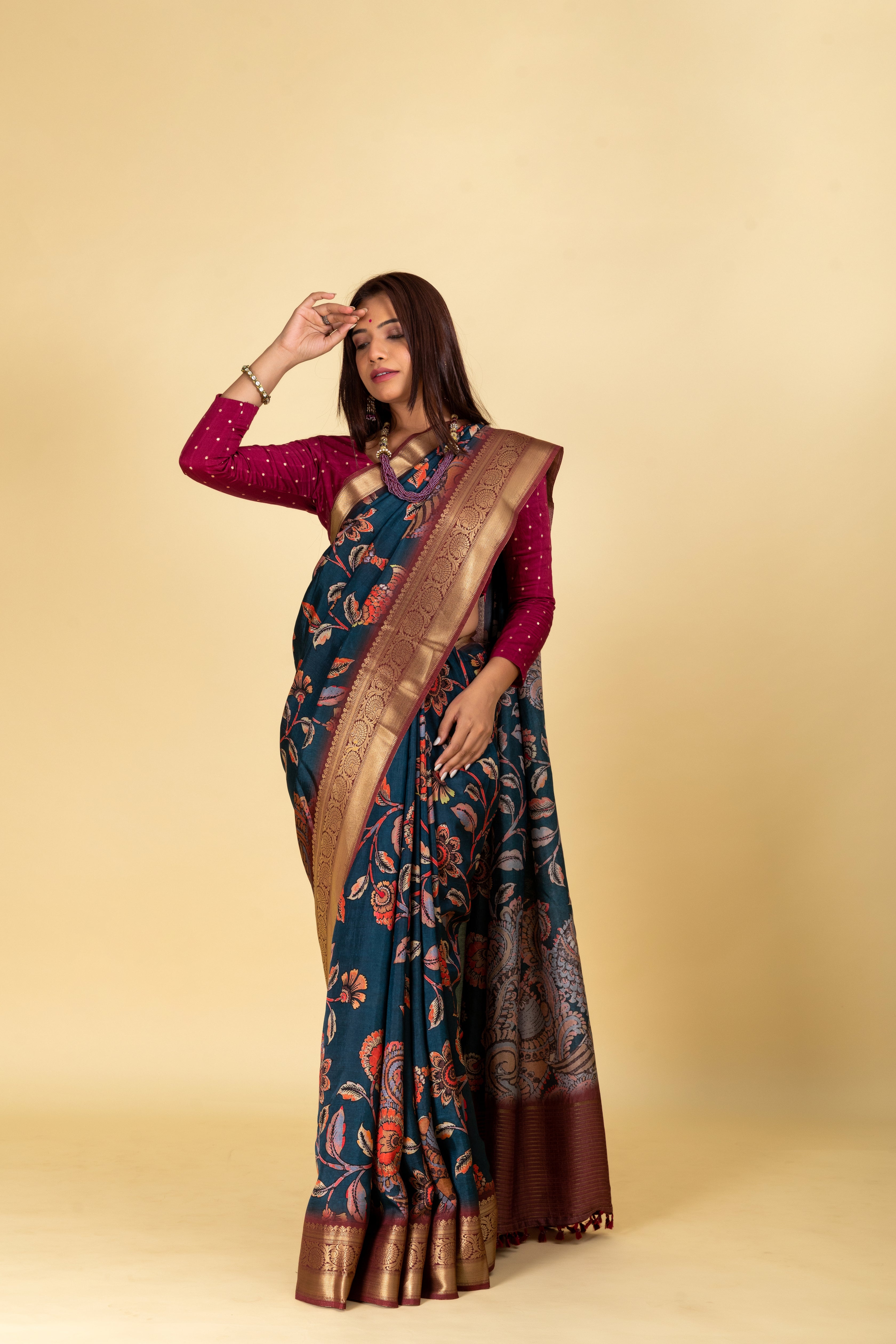 Speaking of the top designer Indian Sarees won't be complete without mentioning Amaira Kalamkari Saree. Like the ones mentioned above, the Amaira Kalamkari Saree is another must-have saree for the Indian wedding. The fabric used in its making is super soft and lightweight making it easier to carry. The metallic tone of the saree adds to its beauty. Grab this beautiful saree at just Rs. 3390 and make heads turn.
Check out
Coral floral saree
Besides the Kalamkari designer sarees, you can also consider getting a coral floral saree for the wedding. The saree features a digital print and comes with a contrasting unstitched blouse. One striking aspect of this saree is the painting of cows and peacocks on the saree's pallu. This saree is not only classic but is also a trendsetter. Buy it now and add this to your collection.
Nevaeh Purple Pichwai Saree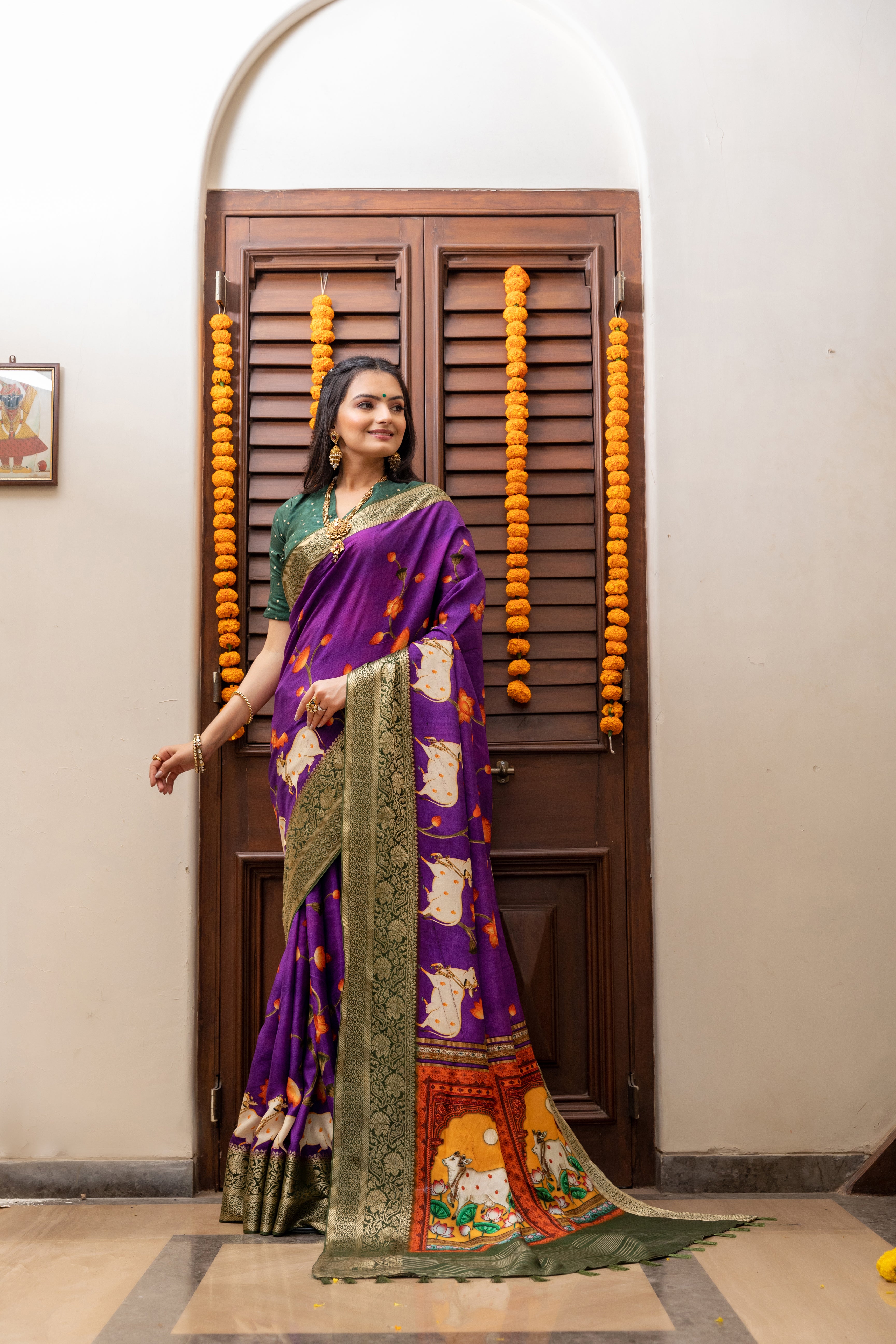 Last but not least, the Nevaeh purple pichwai Saree is another must-have. The saree features a digital print and brings out the best in you. The metallic tone of the saree adds to its beauty. The set includes a saree and soft cotton jacquard butti unstitched blouse. Shop this now and get it delivered to your doorstep within 4-5 working days.
FAQ's
How to Choose the Perfect Designer Indian Saree?
There are plenty of factors to consider when choosing the perfect designer Indian saree for yourself. The factors include your body type, personal style, occasion, and budget. Make sure to choose a saree that goes well with your personal style and makes you feel confident when in public.
What Are the Latest Color Trends for Designer Sarees?
There are no fixed color trends for designer sarees as these keep on changing from time to time according to the season and other things. The color trends hovering in the market these days include purple, metallic hues, and dual-tone sarees.
Where Can I Find Affordable Designer Sarees?
Finding a designer saree for weddings and that too within your budget seems like an impossible thing to many women out there. Fortunately, you can shop affordable designer sarees online from Ekana Label, and also look great.
Wrapping Up
Wearing the above-stated designer sarees for wedding or other such events will not only make you look elegant but also bring out the best in you and make you stand out from the crowd. Stop wasting any more time and shop your favorite one from Ekana Label at great prices now!